The village of Pesche, located near Isernia and surrounded by the greenery of the Oriented Nature Reserve, takes on the appearance of a small natural crib due to its location on the slope of the San Marco mountain and the houses carved into the rock. Until January 6, thanks to the IllumminiAMO Pesche contest, the place will also be enriched by original Christmas lights.
The village of Pesche was founded around the fifth century following the settlements of the inhabitants of Bagno d'Isernia, who fled the barbarian invasions towards San Marco mountain and more precisely at the foot of the so-called Pescla or Pesclatura (ancient name used to indicate the rocky area of ​​the slope). With the name of Sant'Angelo di Isernia, the village developed around the castle of the Lombard age of which impressive ruins remain; then it became part of the fiefs of the Abbey of Montecassino.
Today what most characterizes the village is certainly its position perched on the mountain full of rocky spurs but surrounded by the greenery of the Oriented Nature Reserve. The characteristic vertical development and the evocative landscape in which it is immersed have inspired the local population to do several comparisons: Pesche has become the 'new Positano in Molise', but also the 'book-shaped village' and above all the 'Molise crib village'. In fact, almost every house has a cave carved into the stone which, if in the past it was used as a shelter for animals, today gives a poetic aspect to the place, recalling the hut in Bethlehem.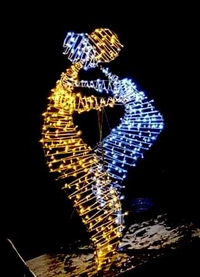 Every year in this place the event 'Presepi nel Presepe' took place with the setting up of the nativities in the suggestive context of the village; this year because of restrictions imposed by the Covid, the tradition was replaced by the 'IlluminiAMO Pesche' competition, for which the inhabitants gave vent to their creativity by installing lights outside their homes. Social issues peep out among the installations and in particular the 12 hugs lighting gives us hope for a future of renewed closeness and human warmth. The winner of the contest will be announced on January 6 in live streaming, but in the meantime you can enjoy the magical atmosphere that the town offers even just by observing it from the road at the foot of the mountain.
Silvia Di Menna
Opening photo: the village of Pesche (pic by A. Silvestri)
The 12 hugs installation made by M. Calabrese, C. Caranci, L. Carmosino, M. Di Lollo, N. Renella (pic by M. Calabrese)