A characteristic homemade pasta cut into rhomboid shapes. Perfect with beans and Molise red wine. Check out the 'taccozze' recipe.
It is a tasty and simple first course to prepare, a base of flour and water. The condiment par excellence is with beans but you can replace beans with chickpeas, or add country vegetables, such as chicory or chard (see photo). Accompany it with a glass of Molise red wine.
How do you prepare the 'taccozze'? The procedure is very simple (even for those who try fresh pasta for the first time) and the ingredients are few and easy to find.
Here is the recipe for 4-5 people:
250 g of flour 0

250 g 

of durum wheat flour

250 ml of water

1 

tablespoon of extra virgin olive oil

1 

pinch of salt
Mix the two flours in a bowl and transfer them to a pastry board. Add the water, mixing, and at the end a tablespoon of oil and a pinch of salt. Knead until you obtain a soft and elastic dough. Let the dough rest, wrapped in plastic wrap, for at least 30 minutes.
Flour the pastry board, take a piece of dough and, with a rolling pin, roll it out about half a centimeter thick. With a knife cut the dough into diagonal strips to create rhombuses.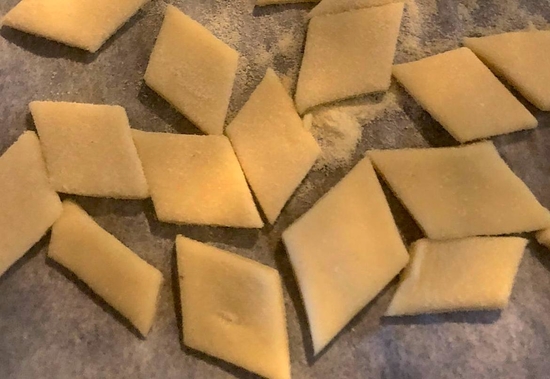 Cooking takes about 5 minutes but you always have to check with a taste.
You can also prepare them in advance and freeze them. The important thing is to freeze them separately on a tray and, once frozen, you can move them in a freezer bag.
Brunella Muttillo