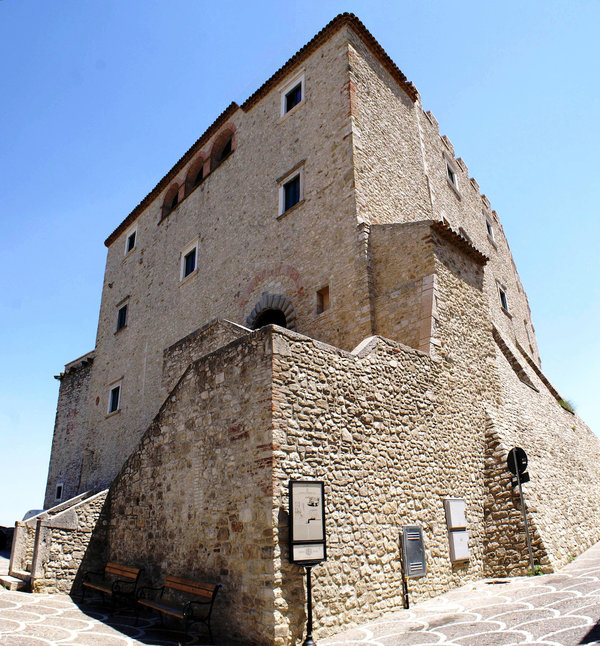 The castle of the di Capua's noble family is in the historic center of Gambatesa, a small and characteristic village about 30 kilometers from Campobasso, on the border with Puglia.
The castle, in a strategic position for the control of the transhumance routes between Puglia and Abruzzo, is a real architectural and artistic jewel.
A typical medieval fortress with a massive appearance, it has undergone many transformations which, over the course of time, have made it a fine manor house. From 1484 it was the home of the Capua family who made it an artistic jewel that we can still admire today.
The sixteenth century cycle of frescoes kept in its interior is of inestimable value and beauty. The cycle, executed by Donato da Copertino (or Decumbertino) and by his disciples, was commissioned by Vincenzo I di Capua, duke of Termoli and count of Gambatesa. Of this painter, who had trained at the school of Giorgio Vasari, no other works are known. The frescoes, in perfect mannerist style, represent mythological and allegorical episodes but also episodes of ancient history.
Move without rushing through the various rooms on the main floor and immerse yourself in the warm atmosphere evoked by the vivid colors of the frescoes. Loose yourself in the contemplation of the marvelous landscape views, the grotesques, the precious curtains, the pergolas.
To complete the visit, go up to the terrace of the castle: from there you can enjoy an incomparable view of Occhito lake and the nearby villages.